On December 12, 2017, the Center for Vietnamese and Southeast Asian Studies of the HCM City University of Social Sciences and Humanities (HCMC-USSH) held a seminar entitled "Climate Change: Global Environmental Crisis in the World-System" delivered by Prof. R. Scott Frey, Director of the Center for the Study of Social Justice, Department of Sociology, University of Tennessee (USA).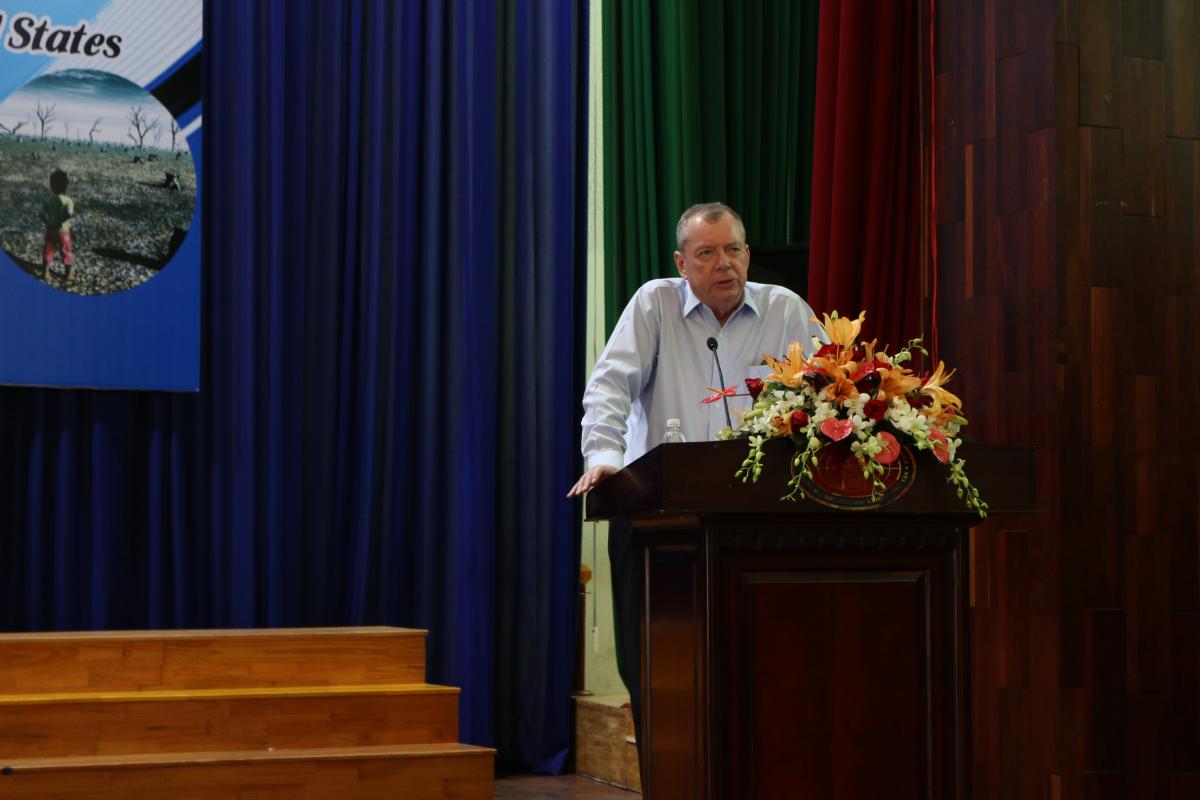 Attendees included representatives from from Binh Phuoc province's Department of Natural Resources and Environment and the Office of Climate Change, as well as from Can Tho's Department of Natural Resources and Environment and various members of staff and students from HCM University of Social Sciences and Humanities  
Prof. R. Scott Frey addressed the following subjects: (1) What is climate change?, (2) Causes of climate change, (3) Consequences of climate change for regions in the world's system, (4) The world's view of climate change, and (5) What are the solutions for it? Who will do it?  
Prof. Scott emphasized that the increase in emissions, especially CO
2
, always parallels economic development. More specifically, China has been the country releasing the largest amount of emission during the past years in the world (23.9% in 2010). However, for the period of 1751-2010, the US had the biggest cumulative emissions for over 250 years worldwide (26.8%). As a result, developed countries, especially the US, have to take the biggest responsibility in reducing the emission of greenhouse gases which result in climate change around the globe.  
Climate change is currently considered as a "superstorm" in the world's system. This is a global and cross-generational issue. However, existing moral and political theories have not yet solved the issues of international inequality, racism, and the relationship between mankind and the natural world. Specifically, developing nations in the southern hemisphere have been more severely affected by climate change than those in the northern hemisphere due to their differences in geographical locations as well as socio-economic and political systems.  
The student participants eagerly raised a lot of questions, focusing on how to overcome the consequences caused by climate change in Vietnam, which is one of the countries suffering serious impacts of climate change. Although Prof. Scott said that measures need to be taken, he added that this is a global issue mainly caused by developed countries. The problems of conflict, immigration, and violence occur all over the world, and the use of fossil fuels has been a nearly unchangeable practice in the world's industries. The picture of climate change's impacts is quite chaotic and complicated.  
From a sociologist's perspective, the professor advised that those who follow social sciences should carefully examine the causes and consequences of climate change as well as conflicts and inequalities in society, from which they can introduce innovations and make changes for a better world.  
More information at:
http://cvseas.edu.vn/climate-change-a-global-environmental-crisis-in-the-world-system-%E2%80%93-a-talk-by-prof-r-scott-frey-the-university-of-tennessee-u-s_c4_d1789.htm